Submitted by

nialljpoleary

on Thu, 05/04/2017 - 17:10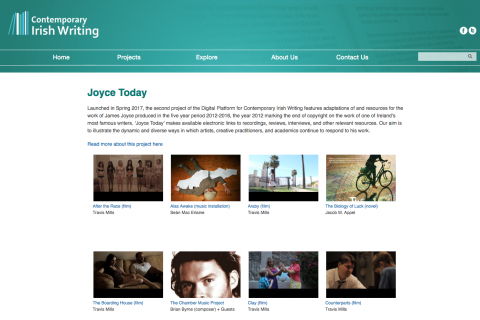 I am delighted to announce that UCD's 'Joyce Today' was launched on April 20th, 2017. Detailing some of the most innovative adaptations of James Joyce's oeuvre, it aims to illustrate the dynamic and diverse ways in which artists, creative practitioners, and academics continue to respond to his work.
Launched in Spring 2017, the second project of the Digital Platform for Contemporary Irish Writing features adaptations of and resources for the work of James Joyce produced in the five year period 2012-2016, the year 2012 marking the end of copyright on the work of one of Ireland's most famous writers. 'Joyce Today' makes available electronic links to recordings, reviews, interviews, and other relevant resources.
I worked with Professor Margaret Kelleher and Dr Ken Keating to bring this wonderful resource to the public. Hope you enjoy it.